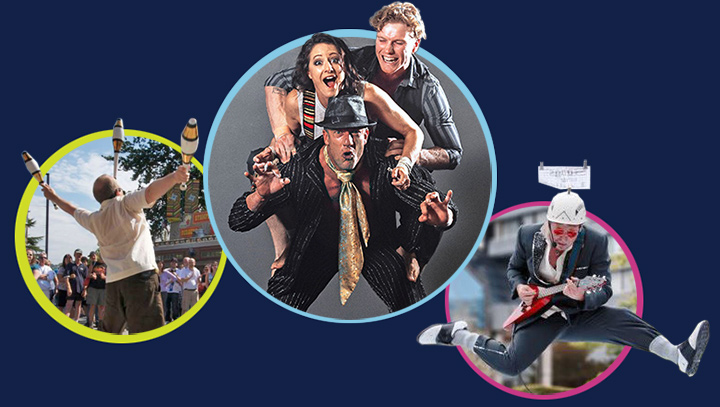 Checkout the great performances on the main stage
All shows and workshops are scheduled to take place in the showzone area. However, if the weather is wet, they will be held in the hall.
Vinyl Burns Rock'n'Roll Circus
Vinyl Burns is a legendary magician, juggler, unicyclist and guitar master rock star. Don't miss his extraordinary skills!
Liv Cochrane
Local superstar, Liv will sing and play some of your favourite songs.
'Wallace and Ned' by The Dust Palace
Ever wanted to run away with the circus? Join us for the next best thing in this hilarious tale of jewel thieves. Will they succeed? Or will Detective Dirk catch them? Wallace and Ned will have you falling off your seat and into a cartwheel as the story unravels through circus tricks and acrobatic skill!
One-Man Circus Spectacular: Kim Potter
With juggling, diablo, straitjacket escapes, magic and comedy, Kim Potter has the kind of circus fun you may not have seen before, nor ever will again!
Kidzone's Got Talent
Would you like to take to the stage and perform your favourite party piece? Sign up at Kidzone's Got Talent (in the AV room) and join the party on stage in the afternoon!
Daily timetable
10.35AM - 11.15AM
Poi Workshop with Adrian
11.20AM - 11.50AM
Vinyl Burns Rock'n'Roll Circus
12.00PM - 12.30PM
'Wallace and Ned' By The Dust Palace
12.30PM - 12.45PM
Circus Skills Workshop - Acrobatics, juggling, tumbling and slapstick
12.50PM - 1.30PM
Liv Cochrane
1.35PM - 2.05PM
'Wallace and Ned' By The Dust Palace
2.05PM - 2.20PM
Circus Skills Workshop - Acrobatics, juggling, tumbling and slapstick
2.20PM - 2.50PM
One-Man Circus Spectacular: Kim Potter
2.50PM - 3.25PM
Kidzone's Got Talent